In today's global marketplace, website localization is not just an option but a necessity. One of the most straightforward ways to appeal to a global audience is by making your WordPress website multilingual. Thankfully, WordPress translation plugins can help you do just that. In this comprehensive guide for 2023, we'll be exploring the 7 best WordPress translation plugins available in both free and paid versions.
Why You Need WordPress Translation Plugins?
Before diving into the list, it's essential to understand the importance of WordPress translation plugins. These tools make it easier for you to provide content in multiple languages, which significantly expands your audience reach. Whether you are running an e-commerce store or a blog, translation plugins can help you communicate better with international visitors and potentially increase conversions.
Free WordPress Translation Plugins
In the realm of free WordPress translation plugins, GTranslate stands out for its simplicity and efficiency. Whether you're a blogger, e-commerce entrepreneur, or service provider looking to broaden your audience, GTranslate can be a game-changer. Below we delve into its features to give you a comprehensive understanding of what GTranslate brings to the table.
Features of GTranslate:
1. Wide Language Support: One of the standout features of GTranslate is its extensive language support. Utilizing Google Translate's robust engine, it offers translations in up to 103 languages. This range is unparalleled for a free plugin and allows you to reach audiences from various linguistic backgrounds.
2. Automatic Translation: GTranslate automates the translation process by leveraging Google Translate. This automation saves time and effort, allowing you to focus more on content creation and other tasks.
3. Widget Options: The plugin comes with a widget that you can place in the sidebar or footer. The widget lets visitors manually choose their preferred language from a dropdown list, enhancing the user experience.
Among the myriad of translation plugins available for WordPress, TranslatePress stands out for its unique features and user-friendliness. Ideal for site owners, bloggers, and businesses aiming for a wider international audience, TranslatePress offers a robust set of tools for multilingual translation.
Here, we'll delve into its features to provide a thorough understanding of its capabilities in wordpress.
Features of TranslatePress
1. Real-Time Front-End Translation: One of the defining features of TranslatePress is its real-time front-end translation. This means you can translate directly on the webpage you're viewing, which significantly simplifies the translation process.
2. Shortcode Support: TranslatePress supports shortcodes, which means you can translate dynamic elements like forms, buttons, and widgets with ease. This feature is particularly useful for websites with interactive elements.
3. SEO Friendly: TranslatePress comes with built-in SEO support for translated content, making it easier for you to rank in different languages. This is a significant advantage for websites looking to expand their reach.
Navigating the global market requires a website that speaks more than one language. Among the free WordPress translation plugins available, Loco Translate has carved a niche for itself with its developer-friendly features and straightforward user interface. In this section, we'll unpack its features and giving you a detailed look into what Loco Translate has to offer.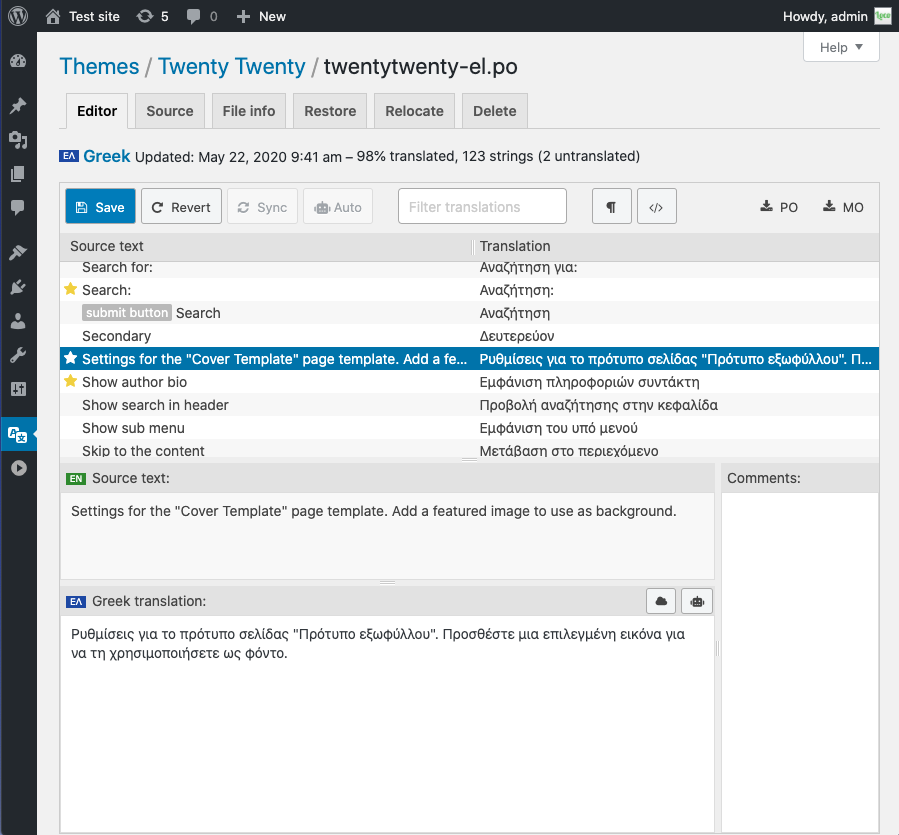 Features of Loco Translate
1. In-Browser Editing: One of the key features that set Loco Translate apart is its in-browser editor for language files. This means you can translate directly from your WordPress admin dashboard, avoiding the hassle of downloading and editing PO files.
2. Translation Hooks: Loco Translate provides hooks that allow you to integrate it with your custom themes and plugins easily. This is particularly beneficial for developers who want a more tailored translation experience.
3. Language File Management: The plugin provides an organized system for managing your language files. 
Paid WordPress Translation Plugins
In the competitive landscape of WordPress translation plugins, Weglot stands out as a premium choice for many good reasons. Catering to a wide range of users—from individual bloggers to large enterprises—Weglot offers a powerful set of features wrapped in an easy-to-use interface. In this in-depth review, we'll examine the features to provide you with a thorough understanding of its capabilities and potential.
Features of Weglot:
Instant Automatic Translation: Quick translation into over 100 languages, ideal for businesses on a tight schedule.
Manual Editing: Allows for fine-tuning to make translations more context-appropriate or industry-specific.
SEO Optimized: Provides translated metadata and follows Google's best practices for multilingual SEO, ensuring translated pages are indexed by search engines.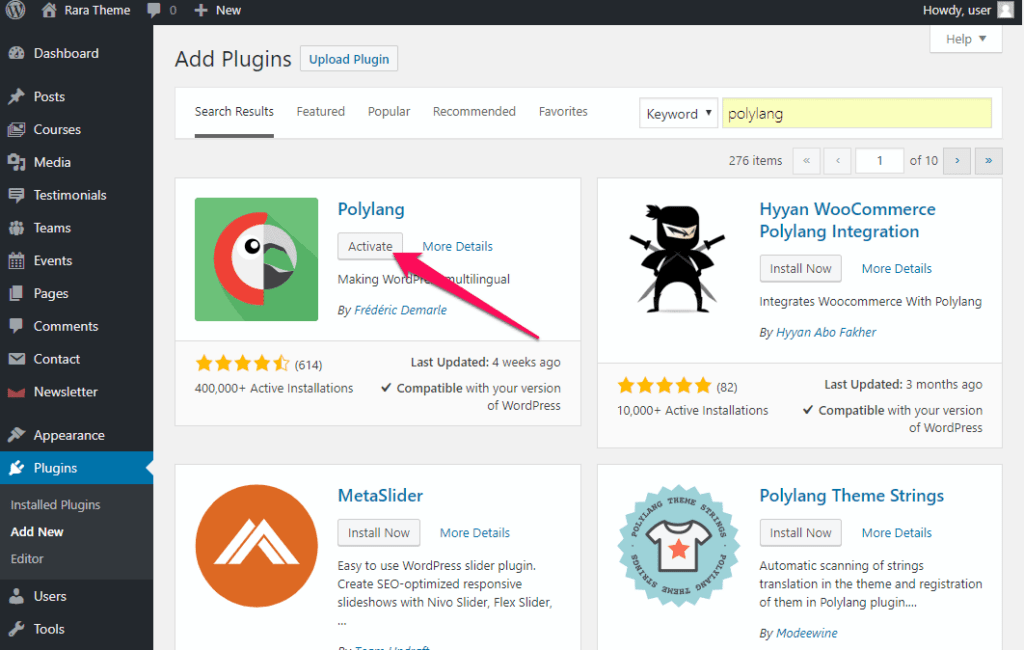 When it comes to paid WordPress translation plugins, Polylang Pro has established itself as a top-tier solution. Known for its advanced functionalities and broad customization options, it serves both small and large-scale websites looking to target international audiences.
Advantages of Polylang Pro
1. Multi-Language Support: Supports a wide array of languages, enabling your website to reach a global audience.
2. SEO-Friendly: Optimizes multilingual content for search engines, including features like URL customization and hreflang tags.
3. Content Synchronization: Allows you to synchronize posts, taxonomies, and media across different language versions, streamlining your workflow.
4. WooCommerce Compatible: Seamlessly integrates with WooCommerce, making it a top choice for multilingual e-commerce websites.
In the premium segment of WordPress translation plugins, WPML (WordPress Multilingual Plugin) is a name that frequently comes up. Recognized for its reliability, robustness, and extensive features, WPML is a go-to choice for businesses and individuals who want a fully multilingual website.
Features of WPML:
1. Multi-Language Support: WPML offers an extensive list of supported languages, with the added option of adding custom languages. This flexibility makes it versatile for any translation needs.

2. Professional Translation Integration: One of the unique features of WPML is its integration with professional translation services. This means you can order translations directly from your WordPress dashboard.

3. Compatibility: WPML is compatible with most WordPress themes and plugins, including popular ones like WooCommerce, Yoast SEO, and Elementor.
In the world of paid WordPress translation plugins, MultilingualPress brings something unique to the table: a focus on multisite networks. Unlike most translation plugins that operate on a single WordPress installation, MultilingualPress allows you to run each language on a separate site.
Features of MultilingualPress
1. Multisite Functionality
MultilingualPress is designed to operate within a WordPress multisite network. This allows for greater flexibility, as each language version can have its own settings, themes, and plugins.
2. No Lock-In Effect
A standout feature of MultilingualPress is that your sites will remain accessible even if you deactivate the plugin. This is a big plus in terms of data security and flexibility.
3. SEO-Friendly
The plugin automatically sets hreflang tags and enables you to customize the URL structure for each language, which is beneficial for SEO.
In conclusion, choosing the right translation plugin for your WordPress website can be a game-changer in reaching a global audience. At Fecto Digital, we've scoured the market to bring you this 2023 guide on the 7 best WordPress translation plugins, both free and paid. Whether you are a blogger, a small business owner, or run an enterprise-level operation, there's a plugin in this list that will meet your needs.
From the convenience and affordability of free options like TranslatePress and Loco Translate to the advanced features of premium plugins like Weglot, WPML, and MultilingualPress, the choices are diverse and effective. Take your pick wisely, and watch your website resonate with users from all corners of the globe.